The new collaborative paradigms that are becoming increasingly structured among companies operating in the global supply chain are proceeding hand in hand with the need to deliver an excellent customer experience to gain a key competitive advantage.
The challenges of operating in global markets today can be mitigated by harnessing the value of digitalization processes and supply chain data – both of which are crucial to business strategies. These elements can be leveraged by using collaboration platforms that help collect and interpret data with the goal of developing collaborative logistics, which is a key contributor to delivering an optimal customer experience, reducing risk and increasing companies' profits.
To achieve this, supply chain teams need to set up logistical systems that can share data with the right people at the right time. To do this, companies need to implement tools and software based on innovative enabling technologies in their processes in order to share information with stakeholders and bring value to their digital supply chain.
Supply chain collaboration
Supply chain collaboration involves coordination between internal departments and external partners to support optimized flow throughout the supply chain network to efficiently meet demand and ensure timely and complete delivery.
It means establishing full and shared real-time visibility and processes with chain partners to facilitate problem identification and resolution, even following unforeseen events such as blockages at the Port of Shanghai – the world's largest container port, with a container volume of 47 million TEUs (Twenty-foot Equivalent Unit, approximately 6 mt in length).
"This implies that problems related to the difficulty in sharing data with customers or as a result of unforeseen events can be overcome by promptly reporting any anomalies and thus providing an excellent customer experience."
Supply chain collaboration encompasses the full scope of supply chain functions, including purchase order processes, forecasting, capacity planning, quality management, and time and operational coordination between different business figures, such as drivers who transport goods and warehouse operators who receive them.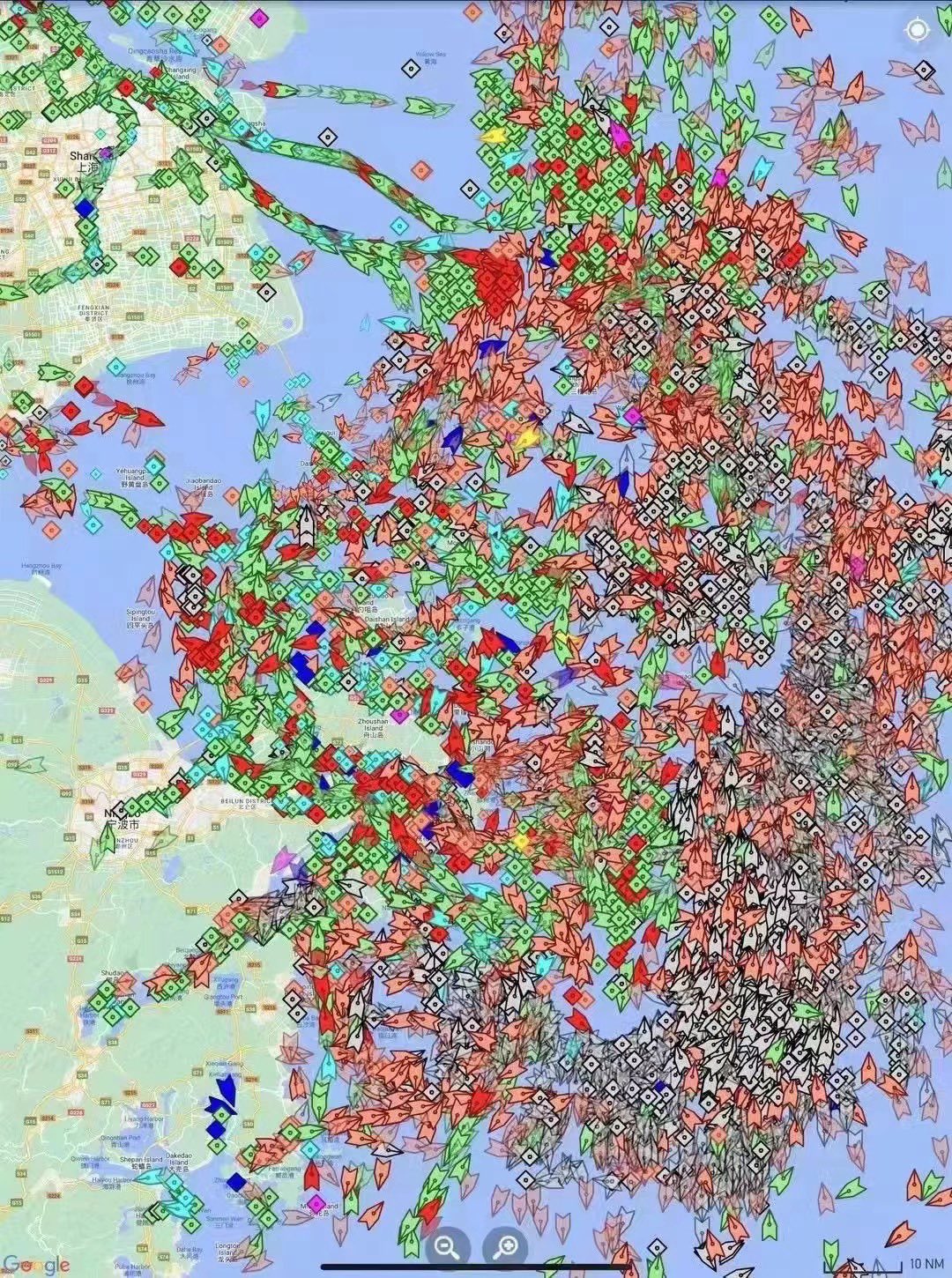 Ships waiting to unload cargo in Shanghai port, 04/18/2022
The necessary digitalization
However, all of these elements can work harmoniously if and only if the companies involved initiate serious digitalization processes: it is difficult to imagine managing partner relationships in real time and improving the effectiveness of these relationships if pen and paper and other outdated means of communication are used.
There is a growing need to equip themselves with collaboration platforms, real-time information sharing software, supply chain collaboration software that ensure companies can take advantage of digital data to achieve true collaborative logistics and give the right value to every junction in the supply chain, mitigating risks, reducing transaction times and improving service quality.

A PwC survey titled Digital Trends in Supply Chain Survey 2022 reports that although companies are focusing on supply chain basics such as increasing efficiency and managing costs, they are missing significant value creation opportunities in digitalization. Thus, it is easy to see the limitations to supply chain collaboration if the processes of digitalization are not leveraged and, conversely, the significant competitive advantage that companies would realize if they equipped themselves with collaborative platforms.
Collaboration platforms: benefits and must-have features
So while the limitations to collaboration – and therefore to business profits – that result from a lack of digitalization are well established, there are all sorts of advantages to adopting a solution that enables collaboration between different companies on the same platform, or to introducing collaboration functions on a legacy platform to manage activities and data together with internal departments and external partners.
Enterprises can leverage specific supply chain collaboration software to integrate different features, link heterogeneous systems, bring on board operators from outside companies, and increase the ability to coordinate all processes: goods entry/exit, real time sharing with suppliers of stock levels, warehouse management, traffic forecasting and real-time sharing of location and ETAs, booking parking slots in distribution centers – and many other components that go into structuring collaborative logistics.
To truly call itself such, a collaborative platform must necessarily provide some key functions:
Real-time data sharing: collaboration is all the more efficient the shorter the time to communicate and share data. The best-performing platforms provide users with real-time access to different data sources (location, temperature, ETA, ...) that can provide the most useful information to make the most context-appropriate decisions;
End-to-end visibility: if collaboration in the chain is limited to only a few steps, it limits growth and potential profits. Streamlining and optimizing operations through collaborative platforms becomes easier if you have visibility and predictive capabilities over all operations, starting from the production stage to the end customer;
Onboarding of internal departments and external partners: a supply chain collaboration software must necessarily connect multiple entities, whether they are companies with different company names and VAT numbers or different locations/hubs of the same company. The concept is similar to a connection between two users on LinkedIn: in the case of a collaborative platform, the posts are the transactions regarding processes (goods entry/exit, transportation, quotations, ...) while the reactions are the actions that can be performed on each transaction managed on the platform (e.g., taking over automatic alerts made by the platform on wrong product codes and subsequent corrections, or alerts on storage cells out of temperature...);
AI- and ML-based capabilities

: when a collaborative platform has AI- and Machine Learning-based capabilities, there is a definite leap from simply leveraging Data Analytics. The capabilities of AI tools and next-generation Machine Learning models enable them to predict and identify risk factors much more quickly, fully automate much larger workflows, and suggest the best possible decisions in the face of disruptive events.
Conclusions
Supply chain collaboration is a critical resource for companies to manage risk and resolve disruptions efficiently. A collaborative platform allows them to respond with agility to changing market conditions to create more accurate forecasts, develop and share plans, and monitor and manage any problems.
"At the same time, software is just a piece of the equation – the mindset, culture and processes around collaboration must form a stable constellation for supply chain teams to take full advantage of the latest technologies."
In this sense, rather than taking a top-down approach and dictating terms to suppliers, it is preferable for companies to ensure an information flow that invests as many of their supply chain network partners as possible.